Amazing Breweries in Orlando!
Not only is it Hump Day, today is a fun day to celebrate. Why? It's National Beer Day… so we get to talk about the best places in Orlando to drink a delicious beer. Grab your friends and head to a few of the amazing breweries in Orlando! Here's a list to get you started:
Crooked Can Brewing Company – My second favorite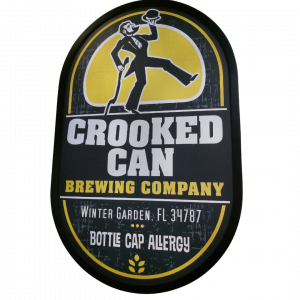 426 W. Plant St., Winter Garden – The Crooked Can is just 20 minutes away from I-drive, Disney, and downtown Orlando, making it the perfect spot to grab a beer before or after a busy day on the town. You can pair their beer with Michaels Ali Coal Fired Pizza… Bellissimo
RockPit Brewing
10 W. Illiana St. – True to Rockpit's motto, "No matter your taste for beer, we have something you'll dig," the brewery has a myriad of options from craft beer and IPAs to sours and seltzers.
TEN10 Brewing Company
1010 Virginia Drive – Ten10 and the Mills 50 Main Street District are teaming up to release a collaborative brew that seeks to capture the particular flavors of the neighborhood, and perhaps even give you a nice buzz in the bargain.
Park Pizza & Brewing Company
6941 Lake Nona Blvd. Suite 100 – Whether it's in their dining room, bar, or patio, patrons can grab a wood-fired pizza and house-brewed beer at Park Pizza & Brewing Co.
Orlando Brewing
1301 Atlanta Ave. – Orlando Brewing has been offering its "darn good" beer since 2006. Brewing in accordance with the Reinheitsgebot German Purity Law of 1516, this hometown brewery is a must-visit.
Hourglass Brewing at Hourglass District – My favorite located in Longwood
Various Locations – Hourglass uses carefully sourced ingredients in order to ensure their world-class beers have unique flavors. You can go next door to Papa Bees and grab you some wings. They are great together. Check out one of their two locations in the Orlando-area.
Redlight Redlight
2810 Corrine Drive – This brewery specializes in sour and wild beers. Situated right next to Park Ave. Records, Redlight Redlight is the perfect pre-game for some record shopping.
Broken Strings Brewery
1012 W. Church St. – Enjoy a craft beer at this music-inspired craft brewery, while surrounded by a mural of iconic musicians like Janis Joplin, David Bowie, Prince, and Louis Armstrong.
Ellipsis Brewing
7500 TPC Blvd. #8 – What started as a 5-gallon homebrew kit has turned into the 7,500-square-foot Ellipsis Brewery. From IPAs to stouts, Ellipsis has something for everyone.
Toll Road Brewing Company
101 W. McKey St., Ocoee – This small craft brewery features in house beer and some guest taps as well. Check out their social media for information on their trivia and bingo nights.
Motorworks Brewing
131 N. Orange Ave. Suite 106 – This Brandenton based brewery opened up its Orlando location in 2019. Their outdoor patio or "beer garden" is filled with games and open seating to enjoy a cold beer.
Ivanhoe Park Brewing Company
1300 Alden Road – Ivanhoe Park Brewing Company keeps things simple to create their high-quality craft beer. Check out their event calendar for their latest rotation of food trucks that set up shop outside the premises.
The Bear and Peacock Brewery
1288 N. Orange Ave., Winter Park – The Bear and Peacock Brewery has tons of outside seating available in their patio. This hybrid brewery-distillery is the perfect place to grab a beer, if you're in the Winter Park area.
Sideward Brewing Co.
210 N. Bumby Ave. Suite C – Operating out of a 100-year-old warehouse, Sideward Brewing Co. offers a rotating beer selection and kitchen bites from a full kitchen that'll pair perfectly alongside a crafted cold brew. Covered outdoor patio seating is available.
– List courtesy of Orlando Weekly