Winter Garden, Florida
Not Winter Garden, New York
I used to live in Connecticut, the southwestern part that looks like the stubby short tail of a Manx cat. The Winter's were cold. Many of the local TV stations we picked up were broadcast out of New York.
A TV commercial playing at the time was for the Broadway musical Cats, which was running at the Winter Garden Theatre on Broadway. I was young. I thought there was a place called Winter Garden, in New York.
I was wrong about the location; it exists, not in the North, where you might expect it, but in the South, in that part of the US that resembles the tail of an American Shorthair cat: Florida. To quote Yoda, "unexpected this is", which is a great description for Winter Garden, Florida: unexpected, but in the best possible ways.
With an approximate population of around 48,000, Winter Garden has a lot to offer, and would be happy to welcome your visit.
The area was established first as a town in 1903, and then as a city in 1925.
Situated just 14 miles West of Orlando, in Orange County, accessibility to area attractions is only a stone's throw.
But maybe this time you fancy something a bit different, to the area theme parks, and standard tourist traps. Perhaps you prefer a past that blends into the present.
If you're searching for a place to stay for a few days, try the Edgewater Hotel, established in 1927.
The hotel is located on the West Orange Trail (we'll talk about that later), at 99 W. Plant street, part of a redeveloped historic district, where local shops and restaurants dominate. The 52-room four-story building strives for a more intimate environment as a bed and breakfast, with its early twentieth century feel, and an original 1926 Otis elevator operated by hotel staff. The motto: "charming little city with a juicy past" is certainly appropriate at the Edgewater, as former guests include icons of early cinema like Clark Gable, Humphrey Bogart and Errol Flynn.
The Hotel is also home to:
•  Earl Brigham's Barbershop if you need a quick trim.
•  The Tasting Room which serves alcoholic beverages and small plates of food.
•  The Chef's Table at Edgewater for fine dining and ambience, and
•  Thai Blossom for the best in Thai cuisine.
If at the end of a great meal you still have space for dessert, try Scoops Old Fashioned Ice Cream Store. Try the Peanut Butter Swirl. You won't be sorry, well okay, maybe a little bit.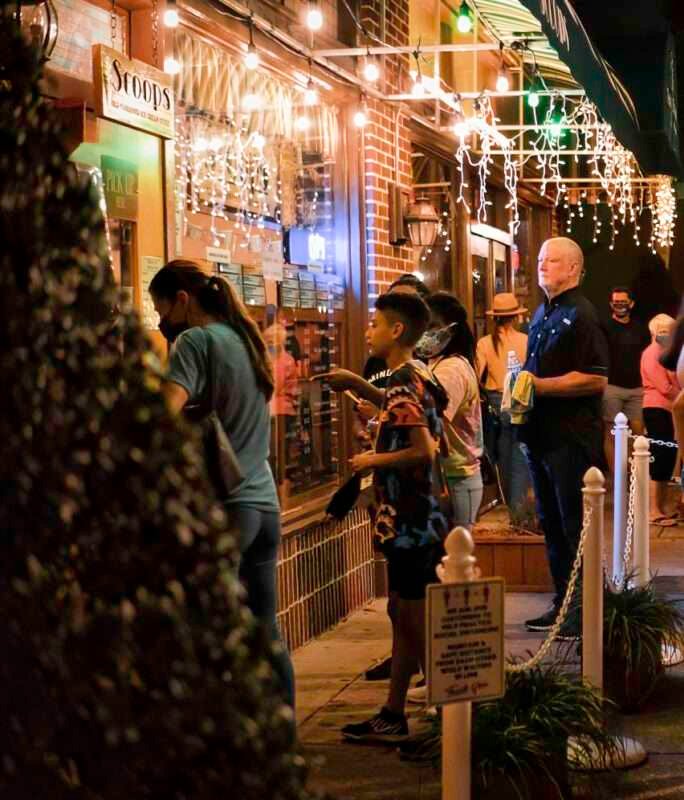 We haven't even left the hotel yet, but we're about to, as we travel along part of the 19-mile-long West Orange Trail, which runs from Apopka to Oakland and through the center of Winter Garden.
Along the Trail, you can enjoy a leisurely stroll, rollerblading, a brisk run, or a bike ride.
Two miles to the West, toward Oakland, is a beautiful butterfly garden.
Winter Garden also has two parks, where you can picnic, or relax and read a book under a tree.
On Lake Apopka is a public boat ramp in case you feel like renting a boat, or doing a bit of fishing.
Returning to town, we find the Winter Garden Heritage Foundation which, in addition to the Garden Theater (see below), is responsible for the management of two local museums, and an education center, all open to the public:
The Heritage Museum is where the exhibits transport you into Winter Garden's rich history.
The History Research and Education Center, contains an archive of historical documents.
Winter Garden Historic Depot The Central Florida Railroad Museum, focuses on the importance of the railroad industry to Central Florida's development.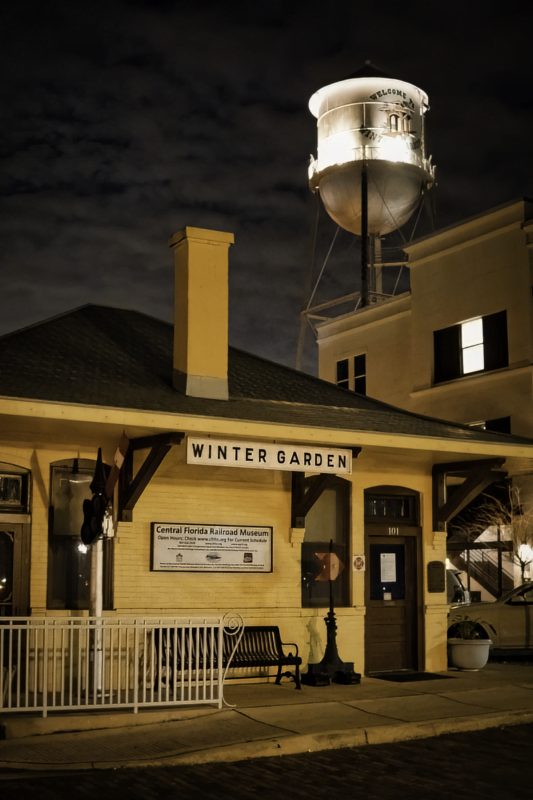 If, for some reason, you get museumed out, (museumed, as part of the verb to museum) a little sightseeing in the commercial district of Plant and Main Street, will clear your head, and take you back to 1912, and the unique architectural design of the period.
A similar experience awaits you in the historic residential district, with a boundary at Central Avenue, Plant Street, Boyd Street and Tilden Street.
Following your excursion into the past, you might be ready for a cup of coffee.
Axum Coffee, makes a wonderful Cappuccino. They open at 7am and have two locations: 146 W. Plant Street, Ste 110, and the Plant Street Market at 426 W. Plant Street, next to the Crooked Can Beer Company.
Perhaps you'd rather have something to eat.
You will be spoiled for choice: local restaurants are abundant along W. Plant Street, like those previously mentioned at the Edgewater Hotel.
The highly recommended Three Birds Cafe at 2 W. Plant Street, comes to mind, and is one of the best soup, sandwich and salad places around, and yes, they do serve great coffee, wine and beer.
In fact, the beer at Three Birds was made locally, on the same street, at the previously mentioned Crooked Can Beer Company, where you'll find award winning beer hand-crafted on site.
Crooked Can is located at 426 W. Plant Street and is open 7 days: Sun – Thu 11am to 11pm; Fri – Sat 11am to 12am. When there's live entertainment, feel free to bring your pets and sit out on the patio.
Don't forget the Winter Garden Pizza Company at 42 W. Plant Street or The Whole Enchilada at 129 W. Plant Street, for a touch of Southwestern US and Mexican tastes. Gems also exist along side streets, like Sweet Dee's Cupcakery at 21 S. Main Street. They can provide you with a custom cakes for any occasion, or as it says on the can, a cupcake (or five). I would recommend the Death by Chocolate cupcake, no further explanation required. I will not justify my actions to you.
After refreshment, you might want to head over to the Plant Street Market at 426 W. Plant Street with 12,000 sq. ft of indoor space. The Market houses 20 vendors of various sorts and is open 7-days-a-week: Mon-Thu 10am-7pm; Fri, Sat 10am-6pm; Sun 11am-6pm.  Individual vendor hours may differ. There's an old-fashioned Butcher there, providing tender cuts of quality meat. He also sells produce and other food products.
Most of the other vendors are also local, focusing on sustainable, environmentally-friendly products.
So many choices, people making, creating, cooking, doing so many different things; arts, crafts, artisan breads and cheeses, pizza, handmade ice pops, locally brewed beer, fresh juices, it's all here! And like Morpheus says in the Matrix: "I can't tell you what the Plant Street Market is, you have to see it for yourself!" Okay, so he didn't actually say it, in the Matrix, like that, but he would say it if he visited the Plant Street Market.
However, if your heart's desire can't be found here, you're likely to find what you're looking for through a local shop or restaurant along W. Plant Street.
Or, you could pay a visit to the open-air Winter Garden Village at Fowler Groves open from 10am to 9pm off RT 429: 3041 Daniels Road. This is where many nationally recognized stores from Best Buy to Victoria's Secret to Book Warehouse can be found. There are also about 20 restaurants to choose from, some local like Aji Sushi & Teppan, mixed with national chains like Bonefish Grill and Chick Fil-A. The national chains, situated in this way, complements, but does not overshadow, the local retail scene.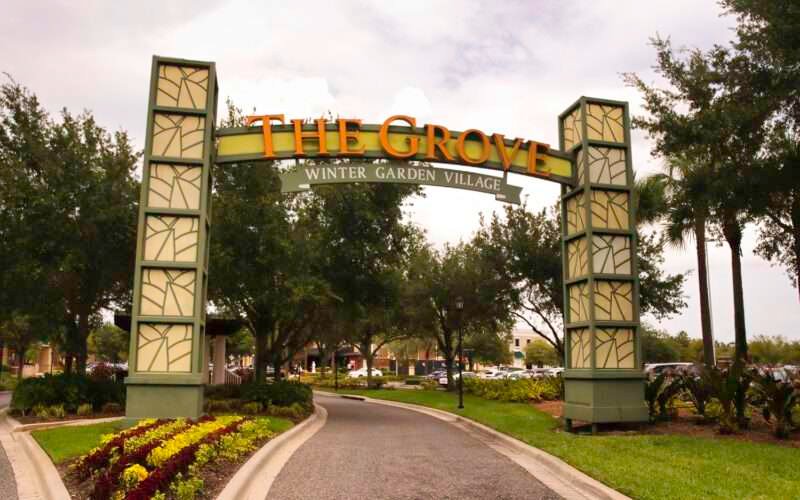 Speaking of local, if you have the flavor for some fresh sustainable produce, not shipped from every corner of the globe; every Saturday from 8am to 1pm is the Winter Garden Farmer's Market at 104 S. Lakeview Avenue.
I'm forgetting something aren't I? The theater, not the Winter Garden Theater that would be in New York. I'm talking about the Garden Theater in Winter Garden, Florida, at 160 West Plant Street. It's not as confusing as it sounds.
This is another historical venue owned and operated by The Winter Garden Heritage Foundation, as of 2004, but was first opened in 1935. The building was restored, as an architectural and historical landmark, during the redevelopment of the Historic District.
Here, inside the 299 seat venue, you're likely to experience: concerts, the performing arts and film.
Winter Garden, FL, is a small thriving, lively, cultural community. It's not cold here at all, even in the winter, but it is like a beautiful garden in spring and this is why I love Winter Garden, Florida.
It's not at all like that time I stood outside the Winter Garden Theater, in New York, in the winter, freezing my buns off, waiting to see Cats.
Written by Sully2cents