My Latest Excursion to Lake Nona, Florida
Luxury New Construction
Laurel Pointe Lake Nona is not only a prime location for luxurious living, but it also offers an abundance of amenities and opportunities for its residents. Here are some additional details to keep in mind:
The community is designed to prioritize technology, innovation, and wellness, making it an ideal choice for those who value a modern and healthy lifestyle.
Residents will have access to a variety of amenities, including extensive trails, parks, and wellness programs, ensuring that there is always something to do within the community.
The surrounding area is filled with top-tier shopping, dining, arts, and recreational destinations, making it easy to explore and discover new experiences.
The area boasts a variety of exceptional restaurants, including:

Azteca D'Oro Mexican Restaurant
Canvas Restaurant & Market
Chroma Modern Bar + Kitchen

With easy access to major highways, Laurel Pointe is just a short drive away from Orlando's world-renowned theme parks, sporting arenas, and stadiums, making it an excellent choice for those who love to explore the city.
The community is also surrounded by a robust educational and healthcare network, including three university campuses and a world-class health and life sciences district featuring some of the best hospitals in the country.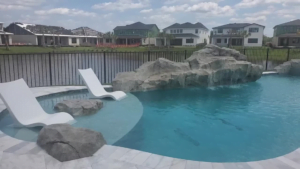 Discover the Laurel Pointe Distinctive Homes. The Estate Collection offers 70-ft. lots and Signature series 90-ft. lots. Homes feature an array of top-of-the-line amenities, including swimming pools, 3- to 4-car garages, Sub-Zero and Wolf appliances, 24-inch tiles in living areas, and even optional elevators. These homes are highly customizable, making them truly unique. With a starting price of $1.0 million+, these luxurious homes are worth exploring.
Laurel Pointe Lake Nona offers the perfect combination of luxury living, convenience, and opportunity, making it an excellent choice for anyone looking to live in a community that values technology, innovation, and wellness.
Investing in a new construction home in Lake Nona, FL is a wise decision, whether you opt for a custom-built or move-in ready option. To view these stunning homes in person, please contact Annie to schedule an appointment.
Take a minute and view the video below to get more of a feel for these fantastic homes in Laurel Pointe.