So Much to Enjoy at Your Own Pace in Altamonte Springs, Florida
Nestled in the heart of Central Florida, Altamonte Springs is a hidden gem that offers a diverse range of experiences for people from all walks of life. This lively and dynamic city is a treasure trove of adventure, culinary delights, and natural beauty, making it an ideal destination for anyone seeking a memorable and enjoyable experience. Let's dive deeper into the many attractions and features that make Altamonte Springs a must-visit location.
One of the most striking aspects of Altamonte Springs is its breathtaking natural surroundings. The city is home to numerous parks and nature reserves, providing ample opportunities for outdoor enthusiasts to explore and appreciate the beauty of Central Florida. Among these green spaces, Cranes Roost Park stands out as a popular destination for both locals and visitors. This picturesque park features a scenic boardwalk that wraps around a tranquil lake, offering stunning views and a serene atmosphere for leisurely strolls or invigorating jogs. The Uptown area is bustling with a plethora of festivals, art shows, and exciting events.  The park also boasts a beautiful fountain that serves as a focal point, creating a soothing ambiance for those looking to unwind and connect with nature.
In addition to its lush landscapes, Altamonte Springs is surrounded by scenic vistas that further enhance the city's charm. These natural features provide a stunning backdrop for outdoor activities such as biking, and birdwatching, allowing visitors to fully immerse themselves in the beauty of the region.
For movie enthusiasts, Altamonte Springs is home to the state-of-the-art AMC theatre, which offers an exceptional cinematic experience. This modern cinema features comfortable seating, top-notch sound systems, and crystal-clear screens, ensuring that every movie-goer enjoys an unforgettable viewing experience. Whether you're in the mood for the latest blockbuster or an independent film, the AMC theatre in Altamonte Springs is the perfect place to indulge your passion for cinema.
When it comes to dining, Altamonte Springs boasts a diverse array of culinary options that cater to a wide range of tastes and preferences. One hidden gem in the city's gastronomic scene is Nonno's, an casual Italian restaurant tucked away in a nondescript plaza on 436. As you step through the doors of Nonno's, you'll be transported to a cozy, intimate setting that serves authentic Sicilian cuisine. The menu at Nonno's is a culinary journey through Italy, featuring a selection of mouthwatering dishes that showcase the country's rich and diverse flavors.
Of course, no visit to Altamonte Springs would be complete without a trip to the Altamonte Springs Mall. This throwback shopping center offers a one-stop destination for all your shopping needs, with over 100 stores featuring everything from designer clothing to cutting-edge gadgets. As you explore the mall, you're sure to find something that captures your interest, whether it's a stylish new outfit or the latest tech gadget.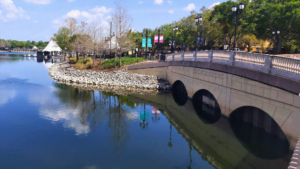 After a day of shopping, you can take a break and recharge at Cranes Roost, the city's premier outdoor destination. This picturesque location offers a peaceful retreat from the hustle and bustle of the mall, with its scenic boardwalk, serene lake, and mesmerizing fountain. As you stroll along the boardwalk or relax by the water's edge, you'll be able to appreciate the natural beauty that makes Altamonte Springs such a special place.
Altamonte Springs is a vibrant and dynamic city that offers a wealth of experiences for visitors and residents alike. From its stunning natural surroundings and exciting outdoor activities to its world-class cinema and diverse culinary scene, there's truly something for everyone in this hidden gem of Central Florida. Whether you're seeking a night at the movies, a delectable meal, a shopping spree, or a peaceful stroll in nature, Altamonte Springs has it all.
So why not come and discover the many wonders of Altamonte Springs for yourself? With its unique blend of natural beauty, exciting attractions, and diverse experiences, you're sure to create lasting memories and leave with a newfound appreciation for this remarkable city. Don't miss the opportunity to uncover the hidden gem that is Altamonte Springs – you won't be disappointed!