New Construction homes in Deland, FL
Now available starting at $314,900
These one-story homes feature 3 bedrooms, 2 full bathrooms, and a powder room, with sizes starting at 1,407 sq. ft. Additionally, these homes come with a covered patio and a 2-car garage, perfect for families who require a bit more space.
If you're looking for a brand new home, you have the option to build from scratch or choose from one of the many move-in ready options available, as well as five different models and elevations also.
There are also other sizes and elevations available, so you can pick the perfect home for your family. If you're interested in seeing these stunning, affordable homes, you can call Annie to schedule an appointment. She can also answer any questions you may have about the homes or the buying process.
If you're curious about what these homes look like, there's an interesting video available that showcases the beauty of the home. With new construction in Deland, FL, you can have the opportunity to own a brand new home that meets all of your needs, without breaking the bank.
Buying a new construction home in Deland, FL is a great investment, as the area continues to grow and develop. Deland, FL is popular for its historical significance, appealing downtown, and exceptional schools, making it a desirable location.
Here are some additional benefits of purchasing one of these homes: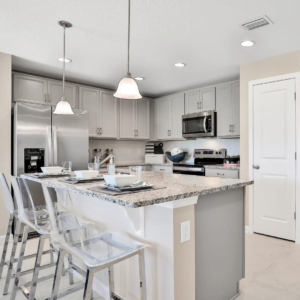 Energy efficiency: New construction homes are built with the latest technology and materials, which often means they are more energy-efficient. This can result in significant savings on your monthly utility bills.
Reduced maintenance: New homes require less maintenance, as everything is brand new and under warranty. You won't have to worry about costly repairs or replacements for several years.
Customization: Building a new home from scratch allows you to personalize the space to your liking. You can choose everything from the layout to the finishes, ensuring that your home is a reflection of your unique style and needs.
Modern amenities: New homes often come equipped with the latest amenities, such as smart home technology and high-end appliances. You can enjoy all the comforts of modern living in a brand new home.
Whether you choose to build from scratch or go with a move-in ready option, purchasing a new construction home in Deland, FL is a smart choice. Don't hesitate to contact Annie to schedule an appointment and see these beautiful homes for yourself.
Enjoy a great Community
Discover a fresh home community in Deland, FL, with move-in ready homes on cul-de-sacs or with scenic pond views. These contemporary homes are fully customizable to fit your lifestyle needs. The community is enveloped by wetland conservation areas and ponds, creating a serene and verdant ambiance. Explore nature trails or unwind in your private backyard oasis.
With various floor plans to choose from, you can find the perfect fit for your family. Don't miss out on the chance to own a brand new home in Deland, FL, and be a part of this coveted community.